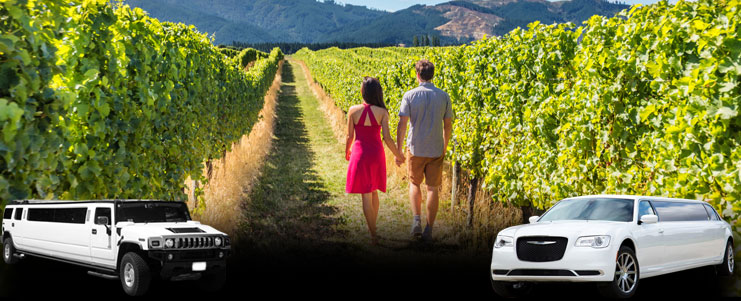 Valentine's Day is around the corner. Gear up to organize things in Napa in order to make this day unforgettable. Celebrate Valentine's Day sitting behind the best Valentine's Day Limo Service Napa arranged by Napa Limousine Service. Napa which symbolizes serenity is an absolute necessity in the season of love. If you are looking for something beyond typical candy and flowers, then make sure you visit Napa.
Napa stands amidst some remarkable views and vintages. However, the city has other treats for the taste buds surrounded by the vibrant visual art scene. Lift up your Valentine's Day spirit with Napa Limousine Service which is committed to deliver the highest degree of distinction, class, safety, and integrity. We, at Napa Limousine Service, specialize in maintaining a fleet that features the latest-models of Limousines, black Sedans, Executive SUVs, and Town Cars equipped with plush interiors and amenities. Our 24/7 customer staff and chauffeurs take a genuine interest in meeting customers' tastes and preferences. These are put together to perfectly build up your Valentine's Day worth remembering. Hire Napa Limousine Service which arranges the best vehicles fit for your needs and a service that you can trust. So, whenever you are looking for the best Limo Service in Napa, then look no further than Napa Limousine Service.
With the help of extensive research, we have surfaced popular Valentine's Day Things-to-do Napa.
Impressive events
From rolling vineyards to towering castles, Napa attracts millions of tourists. However, the beauty of vineyards intensifies further during Valentine's Day. Each year, Napa hosts some of the best Valentine's Day events which make it perfect for a romantic getaway. Explore events like Valentine's Couples Cooking Class Featuring G.H. Mumm, Valentine's Kids' Cookie Decorating, Valentine's Day Sweetheart Special, Valentine's Weekend Dessert Tasting, Valentine's Day in the Grill, Valentine's Day Brunch at Calmere Estate Winery, Valentine's Day Dinner with Music by Jack Pollard, and much more. These overwhelming events look for a luxurious ride arranged by Napa Limousine Service.
At Napa Limousine Service, we arrange the best selections of exotic car rentals that offer an incredible journey from beginning to end. Our exotic car rentals include the most sought-after Bentley Continental GT, Lamborghini Gallardo, Ferrari F-430, Range Rover Supercharged, and much more along with advanced features. Hire Napa Limousine Service to take you around town and nearby attractions where each client is treated like royalty.
Paradise for Shopping spree
This is another way for you to stuff up your sleeve. Napa has the finest selections of Gift & Speciality Shops, Art Galleries, Antique Stores, Farmers Markets, and Flea & Street Markets. Best shopping places that will redefine your joy of shopping include Oxbow Public Market, Napa Valley Olive Oil, Quent Cordair Fine Art, Vintner's Collection, Gabrielle Collection Taste, Napa Premium Outlets, Vintage Sweet Shoppe, The Wright Corner Gallery, The Olive Press, and much more.
Allow our 24/7 customer staff and chauffeurs to assist in planning your line of travel, multiple pickups, drop-offs, and special requests. These leave you to enjoy added time with your loved one.
Wineries & Vineyards
Vines and wines are central to the economy of Napa Valley. The land of grand estates, quaint town and expansive tasting rooms make it a heaven for wine lovers. This year, Valentine's Day is on Friday. Make sure you embark your long weekend with Judd's Hill Winery and MicroCrush, Hendry Ranch Wines, Palmaz Vineyards, Jarvis Estate, Pine Ridge Vineyards O'Brien Estate Winery, St. Clair Brown Winery & Brewery, Sequoia Grove Winery, The Hess Collection Winery & Art Museum, Trefethen Family Vineyards, and Stag's Leap Wine Cellars.
Our knowledgeable staff and chauffeurs, at Napa Limousine Service, have extensive knowledge about the region's wineries, elegant restaurants, and uptown bars that allow you to spend quality time with your loved one.
Outdoor Activities
Valentine's Day is closely associated with roses, chocolates, and gourmet dining, however, outdoor activities are also focused on romantic interest. Experience activities like Napa Native Tours, Napa Valley Aloft Balloon Rides, Active Wine Adventure, Napa Valley Bike Tours, Balloons Above the Valley, Calistoga Bikeshop, Sonoma Adventures, and Off the Hook Fly Fishing.
Our Napa Ground Transportation Service offers door-to-door service between the venues and to and from the destinations. Our Limousine Service is available at inclusive rates that let you discover how affordable luxury travel can be.
Concerts & Shows
It's almost that time of the year when you can demonstrate your classic taste. Make sure you visit theatres like The Uptown Theatre, Napa Valley Opera House, Transcendence Theatre Company, The Blue Note Napa, Sebastiani Theatre, Jarvis Conservatory, Napa Valley Symphony, Napa Valley Performing Arts Center at Lincoln Theater, and much more.
So, whether you're gearing up for an event or cruising to a big concert, there's no better way to make your arrival on-time and in style than the superior quality Limo arranged by Napa Limousine Service. If you are planning for a cross-country visit, you can count on our premium Airport Limousine Transportation Service to take you on best-in-Class Sedan, SUV, or Towncar to and from Oakland International Airport, San Francisco International Airport, and Sacramento International Airport. Our impeccable Airport Limousine Service makes your transportation private without any distraction or stress.
You can book our Limousine Service for special occasions online or you can directly speak to our 24/7 customer reps for the availability of vehicles, info, and supersaver exclusive package deals that allow you to save the maximum.